HOW TO GET YOUR MATS
How to Design Mats in to AIP Projects
Anchor Format Update
Savings Calculator
DEMO ORDER OFFER!!!
CLICK HERE!!!

Made in U.S.A.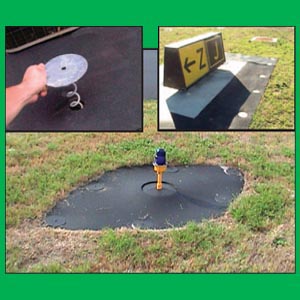 The Echo Advisory Airfield Mat System


Size Matters
Our Mats are Actually Large Enough to effectively:
• Prevent Tall Grass around Lights
• Prevent Erosion
• Reduce Breakage
The Echo Advisory Anchoring System features:
• Zero Profile Anchors

• Allow Mowing Equipment Overlap
• Prevents Mats from Being Dislodged
Larger Echo Advisory elliptical mats accomplish what the smaller, popularly advertised mats do not. The Echo Advisory elliptical or football mats are 7 feet long and 4 feet wide; realistically complementing the mowing path around runway lights.
Mower equipment can overlap the edge of the mat, completely cutting all the vegetation around the light. There is no need to return to the light with a line trimmer or to spray an erosion causing herbicide.